Stop Payment on Check: Stop Pay Check

Why was my check returned Stop Payment?
Why was the deposit returned Stopped?
What does Stop Payment Order mean?
What does Stop Pay Stand For?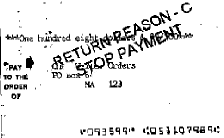 Stop Payment

-

Stop Pay

- Check Stop -

Stop Payment

Check - Stop Payment Item - If your check or draft is returned with a Stop Payment this means the account holder, the person who originally wrote the check or authorized the draft has revoked their authorization.

You cannot redeposit an item marked with a

Stop Payment

. Stop Payment is a feature available to any account holder who contacts their bank BEFORE the check or draft they authorized is presented for payment.

The account holder tells the bank the check number, the amount of the check and payee and the bank in turn looks for this check, or range of checks and returns the item(s) unpaid marked

Stop Payment

.

- Reasons For Return Main Page
- Not Sufficient Funds
- Uncollected Funds Hold
- Stop Payment
- Closed Account
- Unable to Locate Account
- Frozen Account
- Refer to Maker
- Not Authorized
Not convinced? Click Here to see why you should choose CheckWriter™.