The Enterprise Edition: $949+S&H [includes 10 seats]
| Single User Page | Duplex Edition | Network Edition Page | Enterprise Edition Page |
_____________________________________
The Enterprise Edition of CheckWriter™ Software is designed for businesses and institutions that will have one or more users, in one physical location. There is no limit to the number of unique users you can add with the Enterprise Edition.

All users in one physical location on a LAN can share information based on their log in credentials, which are pre-set by a system administrator. All transactions and manual alterations are recorded under the username of the person logged in.
This versatile and easy to use system allows you to have multiple security levels from data entry users through management. Control printing with administrator review and batch printing, plus create IRDs from a draft.

These are the Features of the Enterprise Edition:

[added in v6.3]
• Standard License Covers 10 User IDs [seats]
add unlimited number of additional seats
• Mapable Import and Export Functionality:
Create and import from any file and export in any format.
• One-click Global Search "binoculars toolbar search"
• Administrative Login: Full Functionality Separate User IDs
[customize permissions]
• User Login: Limited Functionality and Full Accountability
[customize permissions for each individual user]
• Track all transactions/updates by Date-Time and Username
• Print Drafts with dollar amounts in the Millions and Billions
[NEW for 7.9]
• Has database backup utility with auto-scheduler
• Includes real-time RoutingTool ABA lookup Utility on Toolbar
• Installs on Win 95/98/NT/2000/XP/7/8 & 10 version 1603
• 100% Check 21 Compliant:
- Works with desktop deposit
- Works with "no envelope" ATM scanners
- Optional Removable USB Flash Drive for Automatic
Secure Back-up



More Features:

• Effortless Double Click Installation from CD ROM
• Password Protected
• Easy to Learn, Easy to Train
• Saves All Customer and Transaction Records
• Allows for Customer Notes / Print Invoices
• Works at any U.S. Bank
• Prints Checks and Check Drafts for immediate deposit
• Accepts Credit Union and Bank Checking Information
• Prints Customer Reports or Individual Data Sheet or Invoice
• WebDebit™ Internet Payment Option Included
• Set up Automatic Monthly Billing / Recurring Payments
• Batch Printing – 3 per page or 1 up printing options
• Automatic Routing Number Validation
• Online RoutingTool™ with Funds Verification Phone Numbers
• Text file Import / Export to Excel (.csv) or .txt
• Invoice and Stub: Compatible with #10 Window Envelopes
• Has 2 User Defined Fields – Searchable
• Prints Checks and Drafts up to $999 Billion.

_____________________________________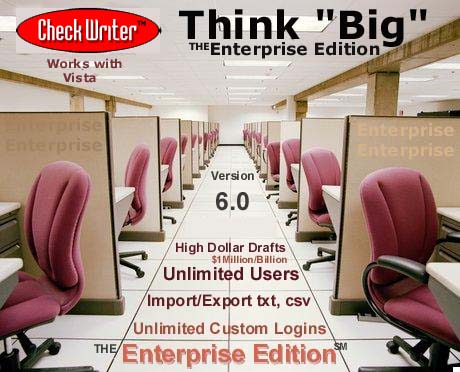 Start accepting checks by phone and watch your sales and collections increase immediately.